Practical Information Season Tickets 22-23
Easy membership renewal
Long time season ticket holder? New subscriber? You will probably also be a season ticket holder the following season, and so on? If this is your intention, you will not have to do anything to renew your season ticket in 2024-2025.
Your membership will be automatically renewed. Are you unsure? You will be asked to confirm your choice in April 2024.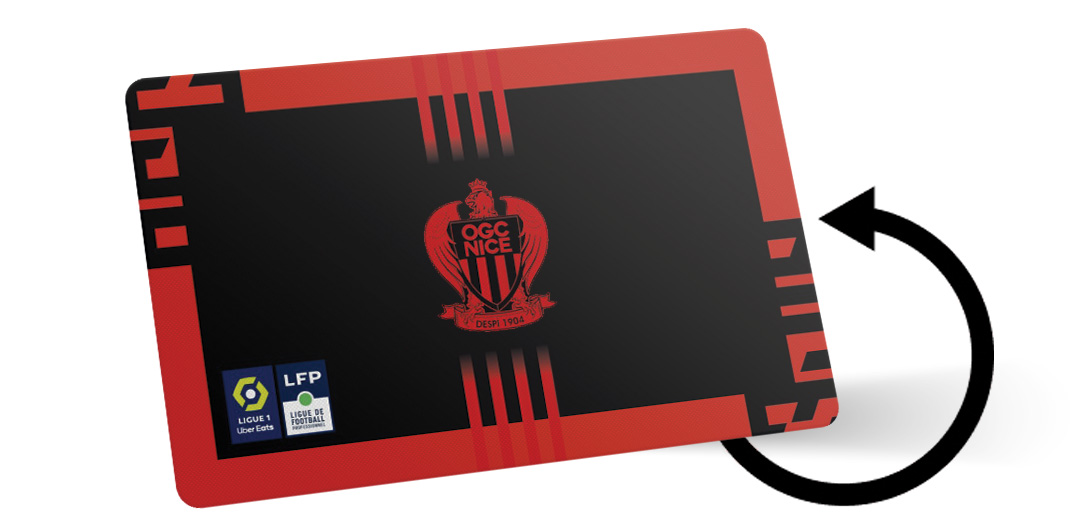 FREQUENTLY ASKED QUESTIONS
Practical information
You will soon be able to subscribe for the 23/24 season, exclusively online at first.
No, it is now only possible to book 1 subscription per ticketing account (including children).
The withdrawal procedure may vary according to each Social and Economic Committee . Please contact the person in charge of your committee to find out the withdrawal procedure chosen by your Social and Economic Committee.
Yes, you must provide the new RIB to be used by e-mail to billetterie@ogcnice.com indicating your subscriber number, name and first name.
No, the season ticket cannot be cancelled during the season (except in cases of force majeure).
Do you want to re-subscribe for the next season? If this is your intention, you will not have to do anything to renew your subscription in 24-25. Your subscription will be automatically renewed.
Not sure? You will be asked to confirm your choice in April 2024.
No, once you have booked your seat for the season, you will not be able to change it.
You can find your membership number on your old membership card or in the "My account" section under "Customer code".
Your subscription can currently only be booked by direct debit, which allows you to spread your payment over several monthly instalments.
Your subscription card will be delivered to you free of charge in digital format. Available on your personal ticketing space, you will also have the possibility to add it in the Wallet of your smartphone - in e-card format.
The physical card will be available in addition. By choosing this option, you will be able to pick up your card at the Subscriber Lounge from H-3 on match days.
As a season ticket holder, OGC Nice will offer you a special programme that gives you access to a set of discounts to offset the cost of your season ticket in whole or in part.
This year, a multitude of advantages are dedicated to all our season ticket holders. In addition, there are benefits based on the experience in which your seat is located: Comfort, Emotion, Supporter, Popular. Find the list of all the advantages by clicking here.
The 23/24 subscription includes all 17 OGC Nice Ligue 1 matches played at the Allianz Riviera.
You can benefit from the Renewal rate if you were a season ticket holder during the 22-23 season.
You can benefit from the Red and Black Season ticket holder rate if you were a season ticket holder during the 20-21, 21-22 and 22-23 seasons.
As your season ticket is subject to tacit renewal, if you have not chosen not to renew for this new season then your season ticket, at your seat, has automatically been renewed.
To subscribe via a group offer, we invite you to contact the person in charge of the relationship between your entity and OGC Nice.
The Offers
Confort: The top-of-the-range offer for the general public. Follow the Gym's matches from the best seats, the most central and closest to the pitch, in Ségurane and Garibaldi, and benefit from exclusive services (your seat in your name, delivery to your seat, etc.).
Emotion: Designed for a family audience, the emotion offer is particularly suited to those for whom a match night should be enjoyed together, facing the game (Ray stand), and at prices that are among the cheapest in the stadium.
Supporter: Do you express your passion by giving your voice to your team? Subscribe to the 2nd ring of the Populaire Sud, while enjoying your seat, dedicated to the season.
Populaire: Subscribe to the "Pop'" and be at the heart of the atmosphere at the Allianz Riviera. The 1st ring of the South stand is exclusively reserved for members of the Populaire Sud association.
Yes, there is a special rate for children aged 4 to 11 and a rate for teenagers aged 12 to 16. For children under 3 years old, the ticket is free.
No, however people with reduced mobility can purchase season tickets in any category of the stadium at a special rate.
Yes, there are many offers dedicated to groups. Find all our offers by clicking here.
Group offers allow you to purchase a season ticket at an exclusive rate, to obtain additional benefits depending on the number of seats reserved, or to take advantage of dedicated stands.
To reserve VIP lounge or box seats for OGC Nice matches, you can be contacted by a member of our sales team by filling in the form available here, or you can contact our sales department directly by telephone (+33 (0)4 93 35 85 91) or by e-mail at the following address service.commercial@ogcnice.com.
Supporters groups
In order to subscribe to the Populaire Sud, you must first join the Populaire Sud association to obtain a membership code. You will then have to confirm this code on our ticketing site to access the subscriptions of the dedicated stand.
The Association Populaire Sud will soon communicate the modalities and opening of the offices to allow you to join the group.